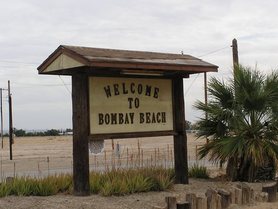 Last night I wandered into the living room, turned on the light, and found a spider as big as the sun crawling across the ceiling. He was carrying his dinner on his back, and his dinner looked almost as outraged as me. Normally, I have a shoot-on-sight policy with arachnids and would've massacred him with a broom. But something about the way he stood very still, hoping that I wouldn't notice him, pretending to be a light fitting, appealed to me. He seemed to be saying, "Nothing to see here, guv. On your way." I acted like I hadn't noticed him, got my glass of milk, turned off the light, and returned to bed. In the morning he was gone.
I guess that the nightlife in my apartment confirms that summer is finally here. Late June and it's 74-78 degrees in North Hollywood. It's ten degrees higher in the valley and ten degrees lower on the beaches … but nobody would want to go there (the coast is populated by retirees and gangs). Venturing outside is risky, riding a bus is suicidal. I've stayed indoors almost all of the week, the curtains pulled to give the apartment the feel of a Bedouin tent. Yesterday I walked to and from the supermarket and almost collapsed along Franklyn Ave with heat stroke. By the time I got home, the beers were hot to pop and the ice-cream was slush. How can anything be done in this heat?
This is my first year without a summer holiday. Normally in June I stop functioning altogether and just watch Randall and Hopkirk Deceased at Nick Waghorn's house until the heat passes. One of the tragedies of modern capitalism is that there's no sense of season when it comes to work. Time is too precious in Los Angeles to waste with cult TV and soda stream, but I still insist that June to August really ought to be written off. It's the time of year when the gods of summer take over; it should be a Bacchanal of strawberries and beer. But five hundred years of Protestantism have put pay to that. Thank you John Calvin for making us feel guilty about taking a vacation.
***
Yes, it is the time of year for watching movies, although the highstreet cinema is to be avoided. James Franco is starring in two misguided remakes (Straw Dogs and Conquest of the Planet of the Apes - both terrible first time round) and the superhero genre has hit a nadir with the Green Lantern. How many more movies about losers donning a g-string and saving the world can we take? One has to turn to independent cinema to see anything good anymore.
And so this week I attended a private screening of a new documentary, Bombay Beach at the Creative Artists Agency headquarters in WeHo. Getting into the event was an event in itself. The CAA is the KGB of Hollywood talent agencies: a huge unmarked building covered in security personnel (just in case someone tries to assassinate James Franco). They even sweep your car boot before letting you park in the garage. Upstairs the décor is minimalist, with long sweeping white staircases leading up to glass galleries and, beyond that, to the stars. Actors and writers call it The Death Star, but it's more like a mental processing plant – it's what I imagine the Scientologist heaven would look like.
Bombay Beach, however, is a town in the California desert on the cusp of the Salton Sea. The Salton Sea was created in 1905 when the Colorado River broke its banks and spilled out over the sand. For a few decades, the landlocked Salton was a huge tourist draw – a cheap place for Westerners to enjoy water-sports and a fantastic array of birdlife. Bombay Beach was one of many towns built to host the predicted influx of people. But the Salton has no run-off or fresh source, so it quickly became over-salted and polluted. Fertilizer spilt from nearby farms poured liquid filth into the water. The Salton is now a site of accelerated, toxic change – a sea that lived and died within a few decades. Bombay Beach is nearly empty and the shoreline is covered in dead fish. At present, the Salton's salinity is 4%. It is estimated that when it passes 4.4%, everything but the algae will die. Bombay Beach is so far from the nearest gas station that the locals get around on golf carts.
Bombay Beach the place is a cruel joke by God. Bombay Beach the movie is an aesthetically astonishing documentary by Alma Har'el about the lives of three people living on the salty dunes. One is a marvelous old loner who feeds himself by selling boot-legged cigarettes. He lives in a trailer park populated by criminals. He could move in with his grandchildren several hundred miles away, but he refuses to talk to his family on account that one of them married a gentleman of color. The stubborn old geezer remembers waking one night and confronting a prowler. The old boy pulled out his gun and the burglar ran away. A few months later the thief returned to buy cigarettes: the place is too damned small to bear a grudge. Some of the best scenes of the movie feature the warhorse driving across the dunes in his golf cart. Towards the end of the film, he has a stroke, falls down and is rushed to hospital. His family takes him to live in Fresno. He doesn't like the damp or the chlorophyll. So he returns home triumphant in the last reel. I gave him a little cheer from the back row.
The second character is an African-American boy who quits Los Angeles and moves to Bombay Beach to escape a gang. It's a stroke of genius on the part of the film maker that she managed to find someone who actually wanted to live in this dump. What is boredom and death to some is peace and liberty to others. After his cousin was shot in LA, our hero was "scared straight". He knuckled down to his school work, wowed everyone on the football field, and even got the girl of his dreams. The story is a testament to the endurance of the American Dream – proof that anyone can make it if they try.
The third story is by far the complex and tragic. It focuses on a seven year-old boy with ADD who seems trapped in a permanent daydream. His folks went to jail a decade ago because they were caught blowing things up in the desert; the police said they were a militia and took their kids into protective custody. Now on their third strike before permanently losing their children, the boy's parents are doing their best to eek a normal existence. That seems to involve breeding Chihuahuas and getting drunk. The pappy is a remorseful blowhard – probably an Irishman – who gets into a fight with everyone he meets. The mother lives to be pregnant. Both are terrified of the authorities. So when their son is diagnosed with ADD, they give him all the medication the doctors suggest – no questions asked. Tragedy strikes when the little boy overdoses on Ritalin and has a mild stroke. I won't give away the ending, but the GOP ought to run it as an ad against Obamacare.
Upon leaving the cinema, I dived into the California crowd and was astonished by the response. Many people remarked that the movie was "obviously about poverty" and the need for the government to "do something", anything to help. A common reflection was that "the wrong people are breeding"; or that life for the little boy was barely worth living and he would be better off in an orphanage. My companion for the night called the mother "fucking stupid" because she fed her child a prescribed overdose. As we chugged our mineral water, lifted drop by drop from some Alpine brook, the gulf between the two Americas never looked bigger.
Whiggish liberalism is so very snobbish. It's all about looking at other people and thinking, "If only you would let me improve you." I saw Bombay Beach in an entirely different way from the people who "Ooohed" and "Urghhhed" in the audience. To me, the boy and his family were victims of the welfare state. Who cares if they blew things up, if they were in a militia or not? They could be driving tanks or marrying wild geese, it's none of the federal government's business. And once trapped in the horrible cycle of carrot and stick that we laughingly call charity (inspections and welfare checks to you and me), they were forced to do whatever they were told – or face the ultimate sanction. The mother only fed her child those drugs because if she didn't she would have been separated from him for good. "Kill or cure", "leave or die". Such is the cruel logic of the taxpayer's compassion.
This is not to say that the government should do nothing, or that domestic abuse should go unchecked. The family's household was pretty disgusting and some intervention was obviously necessary, if only to affect a much needed spring clean. But the tragedy of people stranded on Bombay Beach was so enigmatic and all-encompassing as to be beyond systemic. It was Southern gothic. And anyone who loves Southern gothic will tell you that suffering cannot be alleviated, it can only be endured. With a little bourbon, it can almost seem witty. Perhaps the young boy would grow into the old racist, charging across the dunes in his golf cart. Perhaps that wasn't such a bad way to live anyhow? In this LA summer heat, the residents of Bombay Beach seem heroic rather than pathetic - getting on with their lives out there in the desert. I admire that they have the energy for drinking and changing the TV station, much less birth and bigotry.
But then, I too have experienced the misery of the dole queue. I went on benefits for one week after leaving college. I was searched by a policeman, nipped by sniffer dogs, and interrogated by a fat woman with an oxygen mask. After seven days of humiliation, I signed off. I had greater dignity than to live off tax payers' money. So I moved back in with my parents instead.