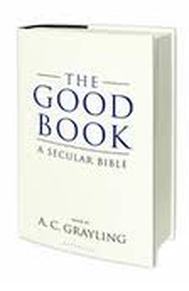 As all my regular readers will now know, I don't like the New Atheism. I don't like its chauvinism, its bad manners, its appeal to adolescent barbarity, the lack of philosophers and theologians involved, and, most of all, its intellectual arrogance. So it was with the expectation of getting very angry indeed that I picked up The Good Book: A Secular Bible by Professor A.C. Grayling. Surprisingly, it proved a worthwhile effort. For this might be the text that sinks the New Atheism forever - so artless, humorless, vain, and conceited that it is.

The Good Book offers a non-religious religious text for non-religious readers in search of something a bit religious that isn't in any way remotely religious. It's hard to think of a more perfectly oxymoronic title than A Secular Bible, although The Kama Sutra for Eunuchs springs to mind. It is a collection of sayings by humanist figures strung together in a narrative that parodies the Christian Bible. There are chapter headings like "Genesis", "Wisdom", and "Parables", and it is structured in verses. The language is epic; naturalism ascending into heroic lessons on reason. "Genesis" begins this way: "In the garden stands a tree. In springtime it bears flowers; in the autumn, fruit. Its fruit is knowledge, teaching the good gardener how to understand the world." [Pause for thought: is the gardener morally good or just a good gardener? And is there a link between the two? The original Good Book was written in Hebrew, which lends itself better to subtleties like this]. This section goes on to describe the apple falling on Newton's head, "[He] saw what no one had seen before: that an apple draws the earth to itself, and the earth the apple/ Through a mutual force of nature that holds all things, from the planets to the stars, in unifying embrace." From this we bound to the first lesson. Life ticks by, but man is unique in nature because he notices it. "In humankind there is experience also, which is what makes good and its opposite/ In both of which humankind seeks to grasp the meaning of things." QED, it is the ability to recognize what works and what fails that gives us ethics and makes us different from the animals.

The Good Book offers an ethical blueprint to the Good Society, as opposed to a faith-inspired dictat. It catalogues the sum of human knowledge as drawn from practical experience rather than mystical revelation. Grayling quotes great figures like Aristotle or Lycurgus of Sparta, whose legal experience forms a great many of the "Acts" that readers are encouraged to emulate. We learn to be nice to one another, to study, to pursue the truth, to reject superstition and bigotry. And in this enterprise, A.C. Grayling may have done the world a great service. He has exposed the New Atheism for the unimaginative, anti-intellectual bore that it really is. If you want to know why it won't fly, buy this book.

From the above excerpt, it should be obvious that the prose is leaden, repetitive, and self-important. Parodying the Bible only reminds the reader of how marvelous the real Good Book is. In its Hebrew variant, the Tree of Life is a complex image divided and subdivided into branches of good and evil. Rabbis have spent centuries arguing about its meaning: one word can be expanded into a million and translated ten-times more ways. In Grayling's hands, it is either a pear tree or a metaphor for a BSC in Chemistry. Compare Grayling to the King James Version. A few words to remind you of their beauty and power: "And when the woman saw that the tree was good for food, and that it was pleasant to the eyes, and a tree to be desired to make one wise, she took of the fruit thereof, and did eat, and gave also unto her husband with her; and he did eat/ And the eyes of them both were opened, and they knew that they were naked." Perhaps the Christian version has a more censorious take on the getting of wisdom, but the English is far superior. And artistry and mystery are elevating to man, where as practical observations will put him to sleep; especially when extended over 608 pages. It's an artificial, unedifying read – like cracking open a billion Chinese fortune cookies, studying every empty platitude that falls out, while masticating that nasty vanilla shell that sticks in the tongue and dries the gum.

The Good Book is a work of stupendous arrogance. Not only is it vain to try to rewrite the most influential and popular book ever written, it takes some nerve to try to sum up all human experience in a single read. Inevitably, things will be overlooked. "Mythology is fantasy" according to Grayling, but Jung would disagree. He argued that they are the conscious realization of things buried in our psyche. Most contemporary anthropologists would at least concede that there is a need demonstrated across all societies for the expression of something beyond material life – normally communicated in worship and veneration. Whatever its source, it is perverse to dismiss it so. It is downright bizarre then to construct or appropriate a whole new mythology in service of Grayling's ethical fancies. The chapter called "Parables" is manufactured in part out of a conversation between a fox and a leopard as recounted by a heathen. And yet, the overall narrative of "historical discovery" suggests that all of human knowledge is interconnected – that progress begat progress. The Bible was more elaborate, as the enormous differences between the sensual Psalms and the tyrannical letters of St. Paul demonstrate. Moreover, knowledge actually isn't disseminated across history in that way. A philosopher might think that it is, because he/she is textual in approach. But history shows that ideas are invented, censored, forgotten, and later reconstituted in a different form to their conception. There is no religious or cultural context applied to any of these stories. Greek society was very religious and very moral. That's why Socrates was condemned for corrupting the youth of the city and promoting false gods. Nor would sociologists enjoy this book. Concepts like "man", "society", or "knowledge" pass undefined. Marx would rankle at the book's lack of concern for material realty; Foucault would laugh at its naïve faith that "learning" is objective and unrelated to power.

Aside from these authorial missteps, The Good Book illustrates two big problems with the New Atheism. First, the ethical system of the Bible is superior to Grayling's version precisely because there is a God involved. The threat of God's wrath means that readers are not persuaded to be nice to each other, they are compelled. Likewise, Christ's physical resurrection gives us hope of salvation. Without his divine nature, Jesus was just a failed revolutionary. It is the literal realization of God on Earth that gives Christ moral authority, confirming the truth of everything that has gone before and prophesying what is to come. Even if the reader does not believe in God, they can surely see the greater social utility of theistic morality than Grayling's republic of ethical astronomers. The Good Book's model for basing ethics on experience raises this question: what if experience and necessity urge us to make a decision that is objectively evil? Theistic morality says that we have to say no, but Grayling's text is full of loopholes. Without an authority external to man, good and evil become constructs. Recall that in Genesis, Grayling wrote, "In humankind there is experience also, which is what makes good and its opposite." Not only can he not name evil at this foundational stage [why? Is this political correctness?], but he defines good as the sum of human experience. Until very recently, experience said that blacks made good slaves, that the disabled could be sterilized, or that women were intended for housework and breeding. There was also a consensus that accumulated human experience proved there was a God that served a useful moral purpose.

Second, Grayling's decision to produce a sacred text for atheists underlines the New Atheism's evolution from healthy skepticism to the status of a new religion. It has its inquisition (Richard Dawkins' endless TV programs exposing miracles we all knew were frauds), its process of confession and redemption (the phenomenon of teenagers posting recantations on Youtube), and now its own Bible. Why does every humanist movement inevitably imitate religion? The French Revolution produced the Cult of the Supreme Being; the Cultural Revolution gave us the Little Red Book. The reason is that man needs something to venerate, something to live and die for. What is unusual about the New Atheism is its lack of artistry. None of its proponents are formally trained in theology, so their knowledge of the subject is embarrassingly limited. Most are scientists of some ilk, so they lack the imagination required to offer something in the place of faith. Their movement will eventually be forgotten because, like this text, they are fundamentally dull.

No better review could be written for The Good Book than this one I found online: "Grayling had signed my copy, so I couldn't even get my money back".