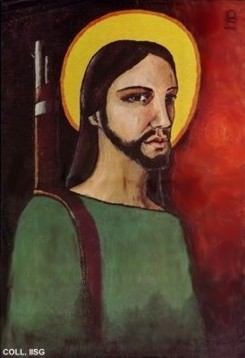 I've always had a romantic attachment to Christian socialism – the idea that if love is so great an idea then why not make it government policy? I don't write that with any sense of irony. As the state grew in the late 19th century and social problems that were once grim tragedies became curable problems, it was logical to make Christian compassion the cornerstone of government policy. That effort was combined with a dash of Millenarian zeal. We could, with high enough taxes, build Jerusalem in England's green and pleasant land.
Although the Anglican Church doesn't have a strict doctrine, Christian Socialism has become its unofficial agenda. Because it is an established church, it has evolved into an unofficial branch of the welfare state. Because people are born into it, it also doesn't feel the need to evangelize quite as much as its competitors. The result is an organization that exists to serve the community without question or reciprocity. The Church of England is a triumph of love.
Yet there have been consequences. The
BBCTV show Rev
explores them rather well. It features a well-intentioned vicar whose faith is tested by the sheer awfulness of his congregation. The show covers every stereotype of the Anglican fellow-traveler: an Afro-Caribbean lady who is in love with the priest, a socially awkward deacon who approaches religion with all the mysticism of algebra, people who demand "bells and smells" on their wedding day but literally never attend church any other day of the year, a cadging drug addict etc. The most pitiful and atrocious character is an alcoholic tramp who shows up on the Rev's doorstep every morning to demand food. Only in season two is he actually baptized a Christian, and that doesn't stop him head-butting our hero in the Christmas special. When he has sobered up, he says to the Rev, "You've got to forgive me. You're a priest, that's what you have to do." Contrition isn't in evidence, but the Rev forgives him anyway.
Religion is ever present in
Rev
, but faith rarely puts in an appearance. Tellingly, we never see a sermon. The Rev believes deeply in God, but he doesn't like to bring it up too often. He isn't a priest, he's a social worker. In many ways, he is a living martyr. But then "martyr" actually translates as "witness," and the whole point of martyrdom is to suffer as a testament to God's existence. The Rev doesn't do that: he just suffers. And because he never engages with the appalling immorality of his congregation – he never points out their failings but instead indulges them by "forgiving" them without demanding contrition in return – his suffering feels pointless. In some ways, his charity is selfish because it seems to be all about a dialogue with his own faith, a constant test of will. It feeds the flesh, but it doesn't save souls.
Rev's experience is a legacy of Christian Socialism, with its priority on social justice rather than personal salvation. It is also horribly common. A friend called me this morning to tell me about his new life as a deacon in a working-class parish in the southwest of England. Nearly half of the people in his parish live on benefits. Their town was destroyed by the recession of the 1980s, throwing much of the population onto unemployment relief. Long periods of doing nothing sapped their health and they graduated to incapacity benefit. Families were torn apart and most of my friend's congregation is on a third or even fourth marriage. Seeing all of this, one can understand why everyone there votes Labour.
Yet, my pal senses that he isn't saving any souls. The congregation is tiny (about 26) and he is basically a social worker to 10 of them. He listens to their complaints but is at pains not to judge. The vicar rarely raises theology in her sermons and some services consist of showing a video. One week they screened a documentary about Margaret Thatcher. It was an exercise in exorcising the ghosts of the 1980s.
My friend is suffering in two regards. First, one might infer that his clerical training was a waste of time. He spent six years studying theology, including learning Greek and Latin. Yet God is almost a taboo subject. When it is raised, it's as a conduit to a discussion of human problems: God is shorthand for the compassion of friends, Satan for absent fathers. The emphasis is upon how much Jesus loves us – not who is he is, what he died for, or why. There's a lot of yoga and Eastern religion thrown in for good measure. Faith as therapy.
Second, he is frustrated by the fact that he can't engage in moral theology. Christian Socialism teaches that sin is either encouraged by, or is a product of, material circumstances. So how can one preach moral behavior to people living in grinding poverty? They have no agency. Yet, my friend is aware that many of the bad things about life in his parish are the product of lifestyle choices. There is nothing to stop anyone getting a job, sticking to one partner, quitting the booze, or picking up a Bible. But he is compelled by the "turn the other cheek" culture of Anglicanism to offer comfort but never criticism. His moral responsibility stops at the point of making a cup of sugary tea.
We see the problems of Christian Socialism on a macro level with the church's opposition to the UK government's program of welfare reform. It is the church's duty to stand up for poor people and challenge the establishment. But the Anglican hierarchy's position in favor of social justice doesn't seem balanced by an articulation of the value of work, personal responsibility, or moral order. Its approach is more suited to the 19th century – an age of robber barons and villainous pit owners. In those days, if you didn't work – you starved. If you left your husband and had a kid out of wedlock – you starved. If you spent all your money on alcohol – you starved. Back then, poverty was truly a question of material iniquity.
But today, poverty is as much cultural as economic. The Anglican Church, which is a church after all, ought to be well placed to offer moral leadership and a path of redemption. Instead, it is trapped by the romanticism of Christian Socialism. Rather than being an opponent of poverty in every sense, it is its enabler.