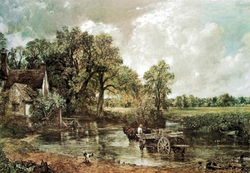 Today I begin packing for another few months of work in America – Los Angeles in October, the east coast in November. Normally I do so with excitement, but now I have regrets.

England is hard to leave at this time of year. An Indian summer is descending into autumn, a moment of change that flatters our uneventful landscape. The trees are turning brown and the flowers are starting their long droop to the bed beneath them: soon their petals will fall, covering the floor in speckled marvels of pick and white. The season ends tragically for the bees. They swim around drunkenly in early September, sipping at the roses in the garden. But by the end of the month, they are fat and confused by the colder weather. A few venture inside and expire on the carpet. By October, they are all gone. As the birds fly off, the landscape falls silent. The trees are barren and cruel, the waters are stagnant. It is not the scene that bring comfort, but the knowledge that this happens every year. The old dies off and the new hibernates in nests, awaiting the fresh spring of tomorrow.

I returned home this afternoon to an extraordinary sight. My father had driven his car into the next door neighbor's garden, tearing down the fence and crushing the flowers in-between. He was sitting at the bottom of the stairs in silence. The old man is dying and this is the latest manifestation of it. Nerve damage has left him unable to use his hands and he finds walking difficult. He has also developed a heart condition and cancer of the thyroid. None of these are connected and they all appeared suddenly and instantaneously four weeks ago. I have watched my father age twenty years in a month. I helped him indoors and fixed him some honeyed tea.

What is terrifying about death isn't the thought of annihilation: it's the threat of a long period of vulnerability. If only we could all, at a moment of our choosing, walk out into No Man's Land and fall at the first volley. Instead we decline slowly and are forced to rely on the patience of others. My grandmother went this way. After a lifetime spent travelling the world as a mystic (she claimed to have read Nureyev's palm) she ended as a tiny, broken lady locked up in a hospice. The hospice had a certain je ne sais quoi: it was converted from a World War I sanatorium and overlooked a wind-swept moor. But rather than reading tarot cards and painting terrible landscapes – as I imagined she would do – my grandmother watched TV and waited for dinner. I felt contempt for her willingness to die like this. "If it was me," I told myself, "I would spend my last weeks on safari, drinking myself stupid with champagne." But her will seemed to have gone. How extraordinary this was from a woman who was previously so independent that when my mother and I once called on her house, she pretended not to know who we were to avoid having to let us in.

But now, I can see from my father that this condition is universal. He has no defiance left, only an all-encompassing dread of the moment when he won't wake up. I cannot understand or describe it until I too face the Grim Reaper. But, for now, I will label it the Last Shout of Atheism. My father believes in nothing and he knows that once he is dead, that will be it. He doesn't care how he is remembered, because he won't be around to hear the loving eulogy. He doesn't believe Heaven exists, so he has no hope. He doesn't acknowledge Hell, so there's no galvanizer to action. He is waiting for oblivion.

When I have children – and so help me God, I will have a million – I will indoctrinate them all in The Faith. I'll bludgeon them into it with Sunday school and prayers at nighttime. I'll have them memorizing Psalms and spitting at the Heathen that live across the street. Some, perhaps all, will lose the faith in their adulthood. But on the deathbed, it'll come back – the certainty that there is something beyond all the blood and tears of mortal life. Maybe they'll only fool themselves that they believe it, but who cares? The important thing is that they will die in peace.

Combining love of God and love of nature, one of the great joys of having faith is the knowledge that the seasons will continue after I am gone. Every generation of plant or animal that evaporates in winter, will be replenished in the spring – perhaps with a thousand mutations that provide a constant, churning evolution of life. It will not stop unless He commands it. Who is He – Jehovah, Christ, Dharma, or Allah? I've still not figured that out, but after I am gone I will know. And that prospect gives death an added thrill: "I'm coming, sir. And I have a lot of questions to ask."

So I regret leaving England for the fact that I shall miss that which gives me the greatest comfort: the cycle of death and birth that plays out in her fields and streams. Los Angeles is beautiful, but dry and white all year round. There life never stops and never starts. Like the plants and grass, it is artificial and thus immortal.