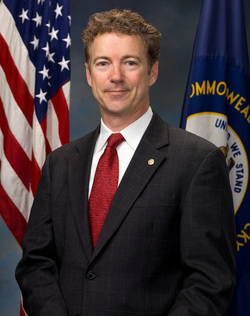 I'm here in America and it feels good to be back. Where else would a train conductor call me "honey"? I notice on my massive TV, while eating some massive cookies, that Rand Paul has dropped out of the race. This isn't a huge surprise but it's disappointing news for libertarians - not that I count myself among their number. I'm sympathetic towards their strict constitutionalism. But I'm not too keen to live in a no-tax dystopia where poor people fight each other with knives for a bottle of aspirin.
Ron Paul did so much better in 2012, placing third in Iowa and second in New Hampshire. Rand underperformed partly because he couldn't summon up the necessary level of anger to stand out. In debates, his father had been a furious dynamo – denouncing wars, big government and the security state. In 2016, however, Trump's fury eclipsed everyone else on the stage. Rand hadn't the personality – or maybe the inclination – to compete. He's too preppy, too clever, too urbane. He occasionally pointed out why Trump's schtick was unconstitutional, or immoral, and earned himself some approving nods among the pundits. But nothing stood out as a YouTube moment to talk about at work the next day.
Nevertheless Rand shouldn't feel glum for two reasons. First, his father's constituency was loud but never that big. It contained many straightforward, ideological libertarians – but also a lot of crazies. And crazies rarely stick with one brand for a long period of time. The very fact that so many former Paul voters have defected to Trump suggests that they never constituted a coherent constituency. They went for Ron in 2012 because he was that year's angry man. They went for Trump in 2016 because the mantle had moved. Rand can hardly beat himself up over the fact that he couldn't keep constitutionally unhappy people happy.
Second, libertarianism didn't stand out so starkly this season partly because the country is a whole lot more libertarian than it used to be. The Republican Party is a little more wary of foreign interventions now. Several states have legalised pot or are going to. Gay marriage has been ruled to be a constitutional right. And everyone finally understands that a one-size-suits-all approach to healthcare is disastrous. In other words, the Paul family has won many of the arguments. It's not so obvious why they are needed. They'll have to make a different kind of pitch in the future.
Daniel Larison is right: it makes more sense for Paul to focus on winning Kentucky again
. America needs a strong libertarian voice in the Senate. This is also the moment to say that Paul's an intelligent man who brought a lot to this race. It's sadly the case that we're only really nice about politicians when a) they die and b) they pull out of a presidential contest. But there are good things to say about Rand Paul – as there are about Mike Huckabee who, sadly, got even less traction this year. I like Mike. He's one of the few conservatives who understands that being poor is not a verdict from God and that it's not breaking the Holy Ghost's plan to occasionally spend a bit of money on helping people. Mike should go back into ministry. It generally does folks a lot more good anyway.