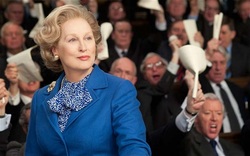 Snow finally fell last weekend in DC. Not much, but enough to cover the ground in a thin layer of white crystal. On Sunday afternoon I smoked a cigarette and watched a squirrel loop its way down the trunk of a tree, like it was riding a helter-skelter. There's a stillness to ice that nothing else can imitate. Man's footprint is hidden in the snow. It's a great time for contemplating the essentials.
I was fortunate enough over the weekend to catch a screening of
The Iron Lady
, the recent biopic of Margaret Thatcher.
As I have written before
, I was anxious about watching the movie because I have issues with the Lady's time in office. But I was pleasantly surprised. Much like
Tinker, Tailor, Soldier, Spy
has little to do with espionage,
The Iron Lady
has next to nothing to do with politics. It's about the tyranny of old age and whilst it might not be an accurate portrayal of Thatcher's present state of health, it is an incredibly moving one.
Director Phyllida Lloyd made the controversial decision to use senility as a narrative device. The story of Thatcher's life is told in flashbacks, while the present day plot concerns her battle against hallucinations of her long dead husband. The first time we see her, she is not the fierce vision in shoulder pads that we all knew in the 1980s. She is instead a little old lady buying a pint of milk in the local shop. Her face expresses a mix of fear and defiance. The music is too loud and the other customers too coarse; she is vulnerable. But she is also mightily pissed off that the price of milk has gone up again. We see a flash of resilience in her eyes. One can imagine her demanding more change and, when threatened with security, crying, "No, no, no!"
In some ways, the movie is a lot of fun. There's plenty of silly departures from the written record (Thatcher did not run towards Airey Neave's exploded car crying, "Noooo!"), plus we get some splendid impersonations of the cast of little men who dogged Margaret throughout her life. Anthony Head is splendid as Geoffrey Howe, who was the most boring yet most radical chancellor in British history. Also delightful is John Sessions as Ted Heath. He captures Heath's strangulated Kentish twang perfectly – the flat ugly noise that I use, too. The story of Ted's premiership has always been a personal inspiration, because he proved that you could be utterly charmless and still go far. I take comfort from that.
Meryl Streep is outstanding. Unlike Leonard Dicaprio's recent turn as J Edgar Hoover, her performance
evolves
. We see Thatcher patiently learning and then owning the verbal and physical tics that are necessary to command a room. And we see her become a prisoner of them. There is one scene in which she gives Howe a dressing down in cabinet. It's like torture porn. She humiliates him in front of his colleagues and even corrects his spelling. Furious with the incompetence of lesser mortals, she dismisses everyone from the room. Only when they are gone does she realize that she has done something wrong. She shifts uncomfortably in her chair and bites her lip. She realizes that she has taken a step closer to destruction. A good leader must be feared not loved. But while the fear commands respect for a season, it leads inexorably to usurpation – and that is what happened to the Iron Lady.
The deconstruction of Margaret Thatcher is complete by the time she is old. Like the rest of us, she shifts quietly from being hated to being a nuisance. Her daughter mothers her and her son ignores her. "We must draft a statement," says Margaret when she hears that terrorists have attacked London. "Mummy, you're not Prime Minister anymore," her daughter reminds her.
Vulnerability is the great curse of ageing. It comes harder in Britain, where work-life patterns undermine strong families. No one wants to be dependent upon their children, but that is the sad reality of physical decline. Margaret scuttles about, listening through key holes to what the others are saying about her – like an errant toddler. She is trapped in a world of memories, some accurate and others not. What is she to do with these years of physical decrepitude? Write another press release?
The Iron Lady
does its eponymous hero a good deed, for it reminds her critics that she is a human being. Her condition is certainly universal. As a child I watched my grandmother grow old and die in a short space of time, the decades catching up with her in a matter of months. The gas was often left on and tea cups got broken. The keys were always in the front door. Thieves took advantage of her kindness and ransacked the apartment. She fell down the stairs and came up purple with bruises. She was terrified: every slip or smash was a shock to her. How did I feel, at eleven-years old? I was annoyed. She walked too slow, her hand drawing my progress along the pavement to a painful crawl. She repeated herself endlessly and confused her own life with bits of soap opera. She slept all the damn time. One Christmas Eve, she rang to say that she felt too tired to stay with us. I berated her on the phone: "You foolish old woman," I said. "Don't you know that I need you here? Don't you know that I love you?" The next day she was dead.
After watching
The Iron Lady
, I have revised my opinion. I think Margaret Thatcher
should
be given a state funeral. Not because she was special, but because she was an ordinary woman who did remarkable things. She was us and we are she – and we owe this fragile human being a little of the dignity that old age robs from us all.